Our work
Research & Publications
Our publications discuss a variety of areas relevant to anti-trafficking efforts. Recent papers examine the nexus between corruption and human trafficking and consider how cross-sector collaboration, technology and data can help coordinate responses to human trafficking.
WEBINARS
Our five-part webinar series, hosted in collaboration with Freedom Collaborative, explores the role of data, technology and partnerships in combating exploitation. Panelists came together from a variety of sectors, including technology companies, law enforcement, the financial industry, NGOs and the fishing industry, to discuss topics such as the data universe, means of data gathering, and how to build successful public-private partnerships.
We also hosted a webinar for the launch of our human and wildlife trafficking dashboards, in which Leighton Joyce of Liberty Shared and Harsh Panda of Giant Oak explain how the underlying data was prepared and walk users through a brief tutorial.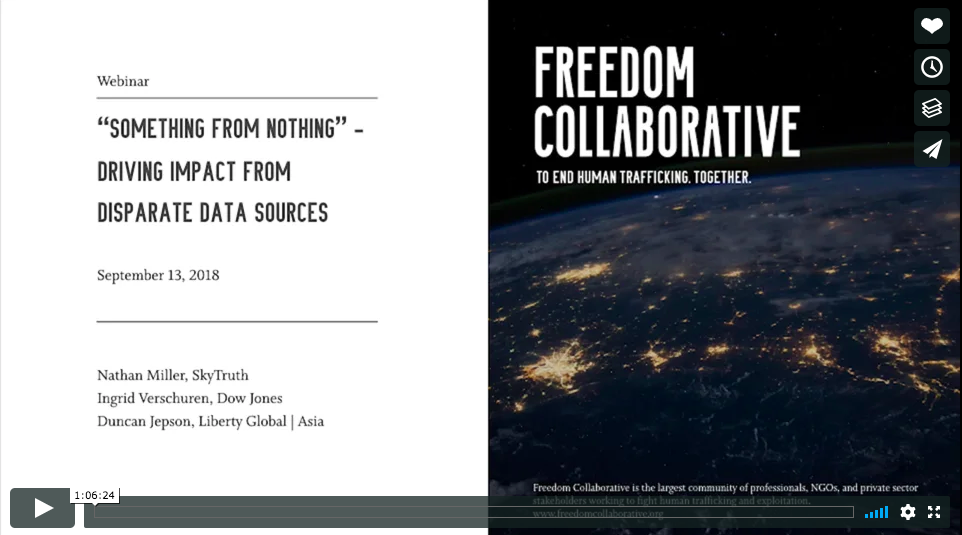 Platforms & Tools
Human & Wildlife Trafficking Dashboards: Our interactive dashboards, created in partnership with Giant Oak, display data points gathered from media reports about human and wildlife trafficking offenses. The data has been collected in partnership with 38 NGOs, and reflects demographic information about perpetrators, country and nature of the offense, media sources, and stage of due process, among other key inputs.
Seafood Slavery Risk Tool: Created in partnership with Monterey Bay Aquarium's Seafood Watch and Sustainable Fisheries partnership, the Seafood Slavery Risk Tool rates the likelihood that forced labor, human trafficking, or hazardous child labor is occurring on fishing boats in a fishery. The Tool's risk reports are based on evidence from credible media and authoritative institutions, as well as civil society organizations, and rate a fishery as critical, high, moderate or low risk.
Multimedia
This video outlines our media programme, highlighting the key role of our in-field NGO partners who identify and collect media content about human and wildlife trafficking in a variety of languages, and explaining how that information is shared with stakeholders in the financial industry to support them in their daily business decisions. The video is also available in Spanish.